Now is the time to recapture the beauty of Christianity as seen in the book of Acts; the Pentecostal handbook!
---
2 TIMOTHY 3:1-5
1 But mark this: There will be terrible times in the last days. 2 People will be lovers of themselves, lovers of money, boastful, proud, abusive, disobedient to their parents, ungrateful, unholy, 3 without love, unforgiving, slanderous, without self-control, brutal, not lovers of the good, 4 treacherous, rash, conceited, lovers of pleasure rather than lovers of God— 5 having a form of godliness but denying its power. Have nothing to do with such people.
---
TERRIBLE TIMES IN THE LAST DAYS
People will be…
Lovers of themselves
Lovers of money
Boastful
Proud
Abusive
Disobedient to their parents
Ungrateful
Unholy
Without love
Unforgiving
Slanderous
Without self-control
Brutal
Not lovers of the good
Treacherous
Rash
Conceited
Lovers of pleasure rather than God
Having a form of godliness but denying its power
Having nothing to do with such people.
---
GODLESS
Reclaiming our belief in total sanctification and Christian perfection.
Matthew 5:48, "Be perfect, therefore, as your heavenly Father is perfect."
1 Peter 1:14-16, "14 As obedient children, do not conform to the evil desires you had when you lived in ignorance. 15 But just as he who called you is holy, so be holy in all you do; 16 for it is written: "Be holy, because I am holy."
TWO MAIN VIEWS OF EARLY PENTECOSTALS
SECOND WORK: The second work doctrine of sanctification was taught by John Wesley and was adopted by William Booth from the Salvation Army and many in the early Pentecostal movement. Such people like William Seymour were "holiness" preachers. (Three Step Process: Saved, Sanctified & Filled with the Holy Ghost).
FINISHED WORK: Shortly after the beginning of the Azusa street revival, William Durham from Chicago taught that sanctification was completed in the work of salvation (Two Step Process: Saved/Sanctified & Filled with the Holy Ghost).
MY PERSONAL BELIEF IN THE FINISHED WORK
1 Corinthians 6:11, "And that is what some of you were. But you were washed, you were sanctified, you were justified in the name of the Lord Jesus Christ and by the Spirit of our God."
2 Corinthians 5:17-21, "17 Therefore, if anyone is in Christ, the new creation has come: The old has gone, the new is here! 21 God made him who had no sin to be sin for us, so that in him we might become the righteousness of God."
Hebrews 10:14 (NASB), "For by one offering He has perfected for all time those who are sanctified."
TEACHING ENTIRE SANCTIFICATION WITH MEMORABLE PHRASES FROM SCRIPTURAL TEACHINGS 
Because of Adam I was born with a naughty nature, because of Jesus I was born again with a divine nature (Romans 5:15 & 2 Peter 1:4).
On the cross Jesus became what I was- sinful; that at the cross I might become what He is- righteous (1 Corinthians 5:21).
When you believe Jesus made you sinless; you will sin less (John 8:32).
The Son of God became the Son of Man, that the sons (daughters) of man might become the sons (daughter) of God (John 3:3).
I am not a dirty cup trying to be clean but a clean cup trying not to get dirty (John 13:10).
I was made holy to live holy- being comes before doing (Hebrews 10:14). If you try to do holiness without first being holy all you will have is "doo doo" (Isaiah 64:6).
Jesus' perfect human nature was not just a "one off from heaven" but rather the prototype for all humanity on earth (Romans 8:29).
WHATEVER YOU DO- DON'T STAND FOR PROGRESSIVE SANCTIFICATION/SALVATION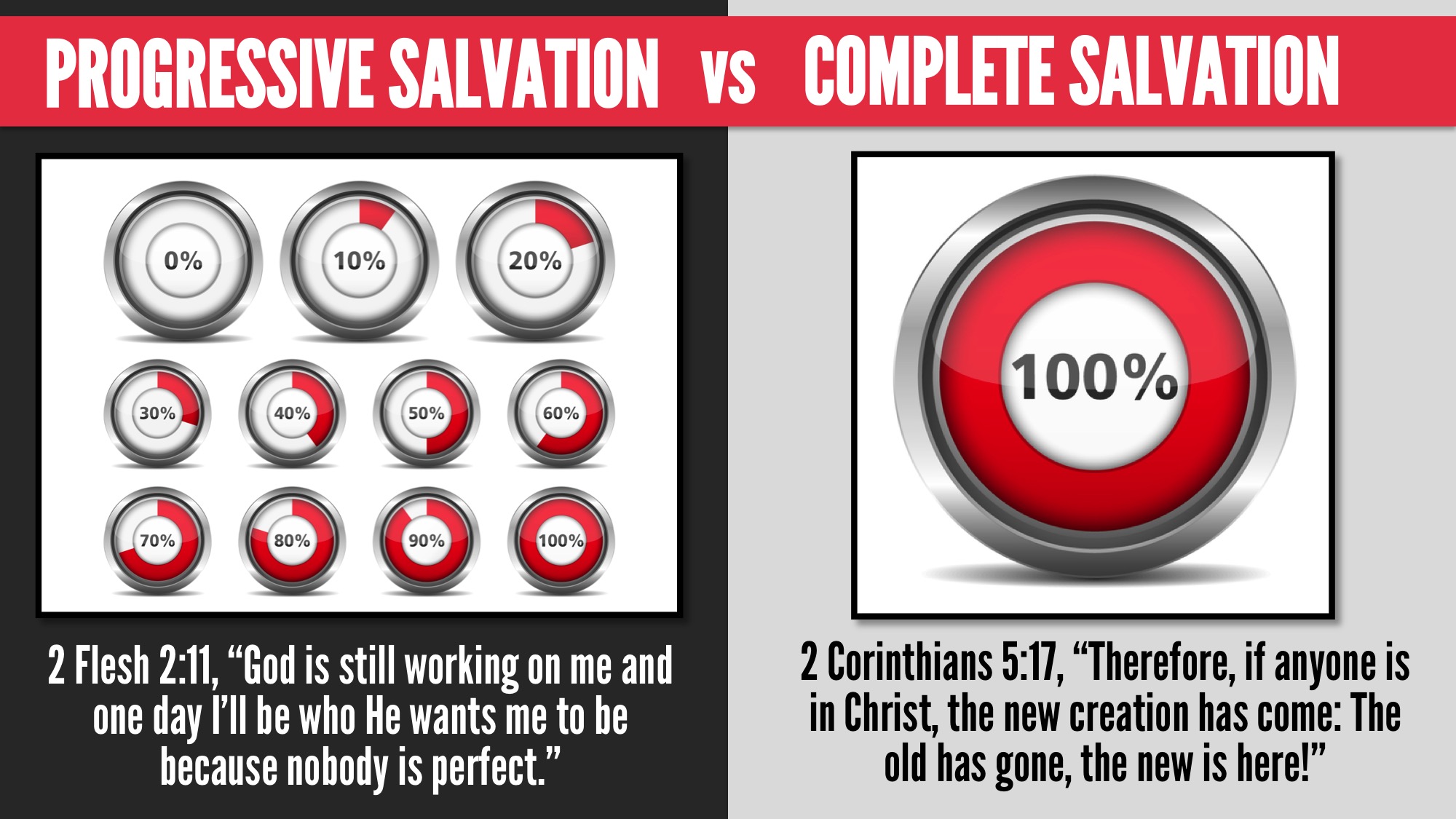 Further Study:
---
POWERLESS
The baptism of the Holy Spirit is the second work of the Holy Spirit after salvation that is evidenced with speaking in unlearned languages. It is primarily for empowerment to be a witness and disciple-maker for Jesus (Acts 1:8) and secondarily to operate in the nine gifts of the Spirit (1 Corinthians 12-14).
Things to Note:
EMPOWERMENT NOT SALVATION: Nothing in Acts 1-2 has anything to do with the Holy Spirit's work in regeneration (salvation); but rather all the language is focused on empowerment for service. This is because at the end of John Jesus finishes His earthly work by breathing on the disciples and giving them the Holy Spirit to be born again (John 20:22).
THE CONSISTENT PATTERN: As the chart below shows the consistent pattern of being "filled" with the Spirit and being "baptized" with the Spirit is speaking in unlearned languages and is separate from salvation.
Further Study:
---
GODLY & POWERFUL
GODLY: Romans 14:17, "For the kingdom of God is not a matter of eating and drinking, but of righteousness, peace and joy in the Holy Spirit."
POWERFUL: 1 Corinthians 4:20, "For the kingdom of God is not a matter of talk but of power."
---
All who believe the gospel and obey God's Word are transformed into a new kind of humanity that is godly and powerful!